Mr Sumeth Rainpongnam, a 48-year-old farmer, and the Khon Rak Kroksomboon group are upholding their community's right to a safe environment, in spite of violence and Strategic Lawsuit Against Public Participation (SLAPP)
---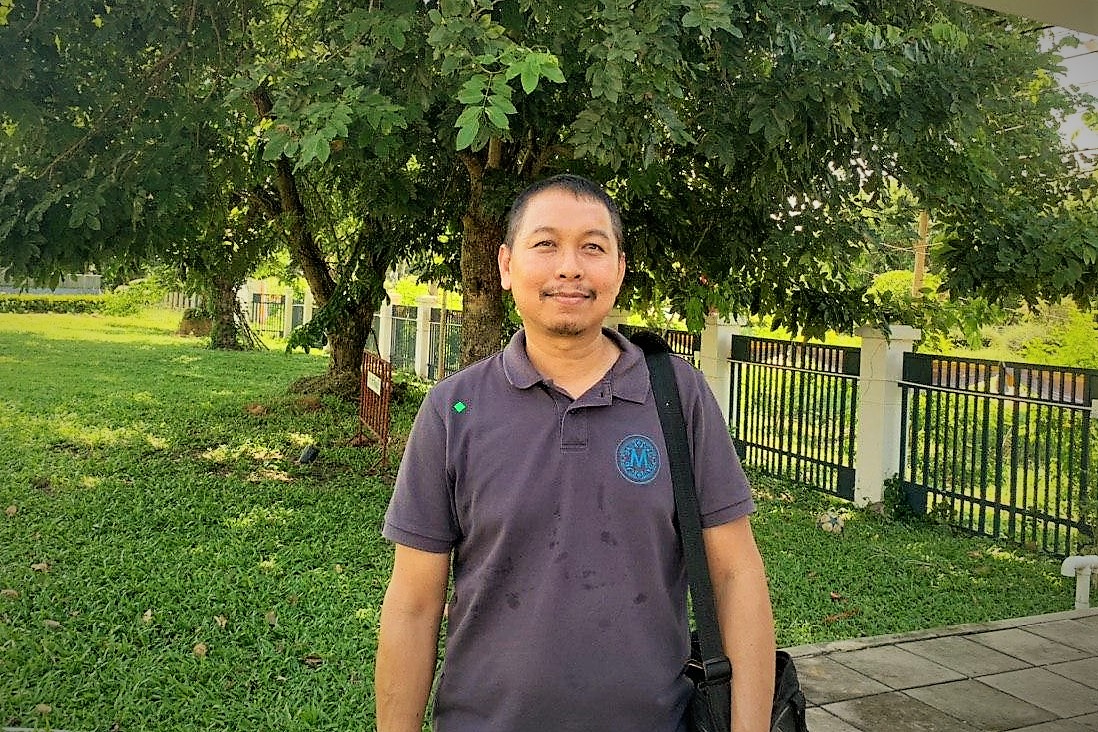 Bangkok, 13th July 2020 – Although the latest attempt at mediation made from the Prachin Buri Court, last Wednesday (8th July 2020), yielded no agreement, Mr Sumeth Rainpongnam, a community environmental human rights defender (EHRD), is determined to keep upholding his community's right to a safe environment.
"Even though we feel discouraged sometimes, we cannot just back out, because this is to protect our lives and communities. We exercise our rights according to the constitution to protect our homeland, our environment, our health, and our communities, so that we can pass these along to the next generation," said Sumeth.
Leader from the Khon Rak Kroksomboon group, Sumeth is fighting for clean air and water in Prachin Buri Province, eastern Thailand, despite facing a 50-million-baht lawsuit from an industrial waste disposal company. The lawsuit came after the residents of three sub districts in Srimahaphot and Kabin Buri District, Prachin Buri Province, reported the presence of toxic smells, Sumeth and his community group filed a complaint with the Provincial Governor.
The group requested an official inspection whether the nearby industrial waste disposal company operates according to industrial regulations and runs landfill operations safely, without contaminating local water-sources. Sumeth and his group also requested the Prachin Buri Provincial Industry Office and the Pollution Control Department to examine local water sample, whose findings show dangerously elevated levels of arsenic (6.057 mg/litre). Nonetheless, the company has sued Sumeth twice for defamation and asked for compensation totalling 50 million baht (approx. US$1.6m) since November last year.
"The number of lawsuits against environmental human rights defenders by companies has been increasing in recent years," reports Ms Supaporn Malailoy, a member from the ENLAW Foundation, an environmental human rights organisation offering legal assistance to people and community affected or to be affected by problems related to pollution, natural resources, the environment and health. "These lawsuits aim to shut down the work of those leaders who are upholding their community's right to live in a healthy environment, as they burden them with high financial costs, require a lot of time for the court procedures and engender fear in the community."
Also known as Strategic Lawsuit Against Public Participation (SLAPP), Supaporn said, these lawsuits can be averted by judicial procedures since, according to Thailand's Criminal Procedure Code, the court can dismiss a case if it is ascertained that a lawsuit was filed in bad faith, simply to harass the defendant. However, the requests made to the court in such cases faced by women and men human rights defenders (W/HRDs) are often rejected, even though this point is within the UN Guiding Principles of Business and Human Rights that Thailand adopted last year.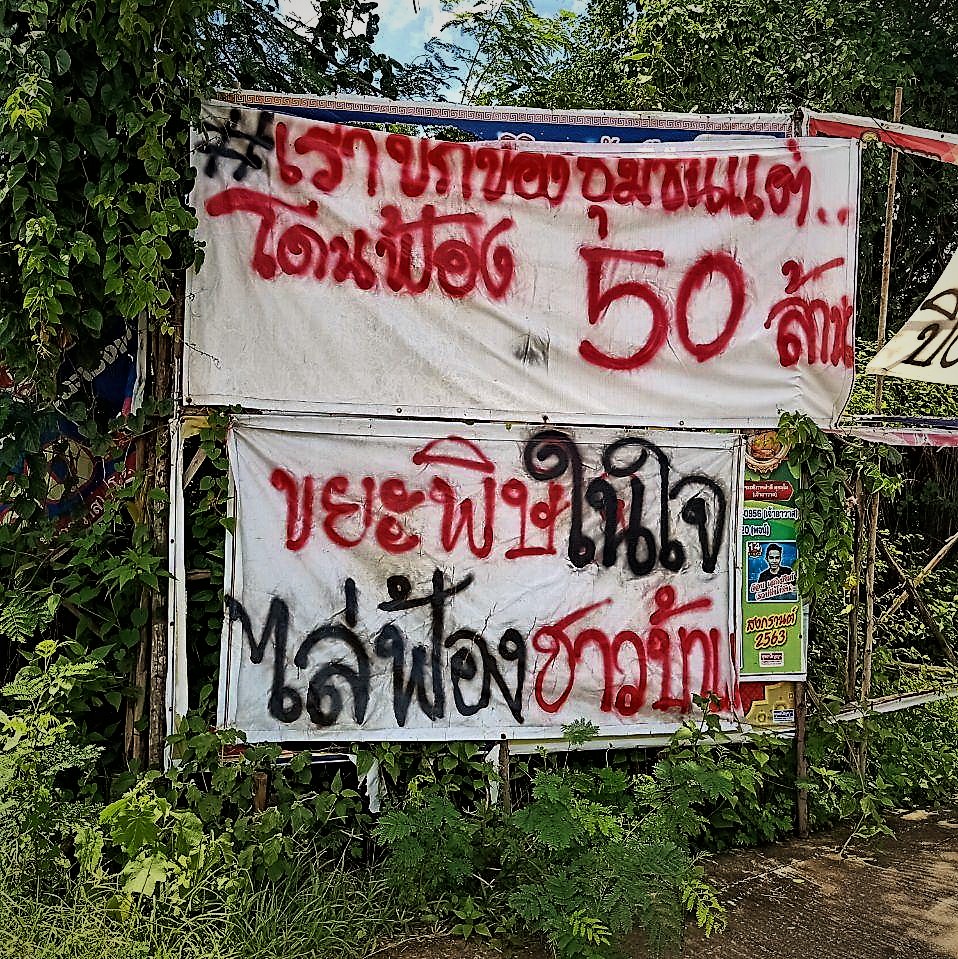 She also stressed the vital role played by local authorities and regulating bodies, such as the Provincial Industry Office and the Pollution Control Department, in ensuring that industrial operations do not cause harm to nearby communities. "And if a dispute occurs, the state must intervene to ensure companies are effectively regulated to prevent environmental problems, which is also relating to supporting the work of W/HRDs," Supaporn added.
Besides SLAPP litigations, Sumeth and other community leaders are also target of violence by unknown perpetrators. On the very night after they submitted their complaint to the Provincial Governor, for example, hand grenades were thrown at the group leaders gathered at one of the members' house. Other violent episodes occurred in September 2019, when Sumeth and his wife survived uninjured three different shootings.
"It is encouraging that Sumeth receives legal aid from the Justice Fund Office for the first case, and hopefully also for the second case too," said Pranom Somwong, Protection International's representative in Thailand. "However, violence directed at him, his family and other community leaders is upsetting, as perpetrators are yet unknown. It is a state's duty to ensure safety for every W/HRD."
"Thailand has the obligation to abide by the UN Declaration on Human Right Defenders, as the country adopted it two decades ago already," Pranom added. "It is urgent that the authorities investigate the violence towards him and his family, and punish those involved."
As a human rights defender upholding his right to live in a healthy environment, Sumeth needs the authorities' protection to carry on his work safely. The Thai government claims putting great importance in protecting human rights defenders. For example, Thailand's Ministry of Justice has included protection of human rights defenders in the current draft of the National Human Rights Plan.
However, at least four W/HRDs lost their lives defending their communities against toxic waste in eastern Thailand, according to the information collected in "For Those Who Died Trying", a project led by Protection International in collaboration with British photographer Luke Duggleby. Among them, Prajob Nawa-opas, a community Environmental W/HRD from Chachoengsao Province, who was killed in 2013.
In order to stress the need for the Thai government to protect W/HRDs who face judicial harassment and SLAPP cases such as Sumeth, Protection International, along with 53 organisations and 23 individuals, submitted a letter to the UN agencies organising the UN Annual Meeting on Business and Human Rights on 7th June 2020. The next mediation meeting between Sumeth and the industrial waste disposal company is planned for 11th August 2020 at the Prachin Buri Provincial Court.