Wednesday April 23rd, Kuala Lumpur, Malaysia – Protection International (PI) and its local Indonesian partner Arus Pelangi screened for the first time their new documentary "Protecting the Rainbow" at this year's ASEAN People's Forum Film Festival. The film was screened in the second session under the theme Non-Discrimination & Equality, and had more than 200 attendees.
The Story
Since 2010, PI's local Protection Desk Indonesia has partnered with Arus Pelangi, a Jakarta-based organization working for the right of LGBT people to mainstream their security. As a result, Arus Pelangi now plays a key role in supporting other activists within their network on security management issues.
At the beginning of 2015, Arus Pelangi and PI produced a video to share their story, best practices and inspire others working in challenging environments to prioritize security planning in their daily work.
The Screening
After the documentary was screened, Pranom Somwong, Representative from Protection
International and Arus Pelangi's Chairperson and National Coordintor Yuli Rustinawati Chairperson of Arus Pelangi had a dialogue with the audience. The audience expressed their interest to work on their own risk assessments and protection plans as risk of harassment of human rights defenders has been growing in South east Asia.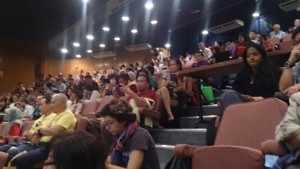 A Representative of Komnas Perempuan (KP), an independent institution established in 1998 by decree of the former Indonesian President Habibie dealing with women's human rights in Indonesia, also presented a film at the events and spoke clearly of KP's intentions to support the initiative of Arus Pelangi and PI and encourage Civil Society Organisations (CSOs) to work further more on security and protection for LGBTIQ communities.
Watch and share their story with us.
For those who missed the big event at the ASEAN People's Forum Film Festival,  the new documentary is also available online here.