Protection International's 2019 – 2023 Global Strategy is our response to a changing landscape for human rights defenders.
In recent years, we have witnessed a rise of powerful revisionist agendas on international human rights standards and a growth in inequality, discrimination and a legitimization of oppression against minorities. State authorities are failing in their obligation to protect those who are targeted by powerful non-state actors, which results in high levels of repression against civil and political rights activists, as well as against land rights and environmental defenders, and the use of judicial harassment and criminalization to hamper the work of women and men defenders (W/HRDs)1.
The numbers of defenders and communities at risk continue to increase while current approaches to W/HRDs protection are not sufficient and too prescriptive. Yet, new opportunities exist: indigenous peoples, feminist activists and movements, environmental activists and funders are increasingly able to mobilise a strong and fast outcry to defend rights through new networks. Institutional debates on business and human rights and climate justice are opening some space for structural changes. In this reality, resilience of W/HRDs themselves and their capacity to sustain peaceful resistance over long periods of time are a message of hope for the global human rights movement that demands our action.
In response to this, Protection International's new 5 year Global Strategy builds upon a shifted perspective, moving from W/HRDs protection towards their agency to exercise the Right to Defend Human Rights. Two key elements underpin this transition: a revised Theory of Change (ToC) and a reviewed protection approach.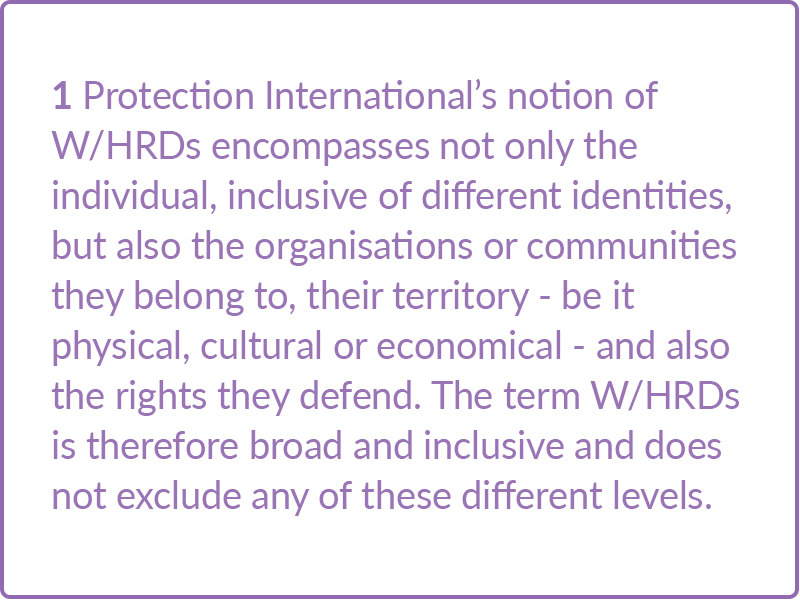 With the 2019-2023 Global Strategy, Protection International will also adapt its governance structure to expand its reach and bring our decision-making where it matters the most: close to defenders.                                       
Read our 2019 – 2023 Global Strategy, also available in Spanish and French.
---
It is Protection International's ambition that:
By 2023, the agency of W/HRDs to enjoy the Right to Defend Human Rights will have increased in countries where Protection International operates.
To this end, we have identified three main pathways of change to achieve long-term and sustainable change:

---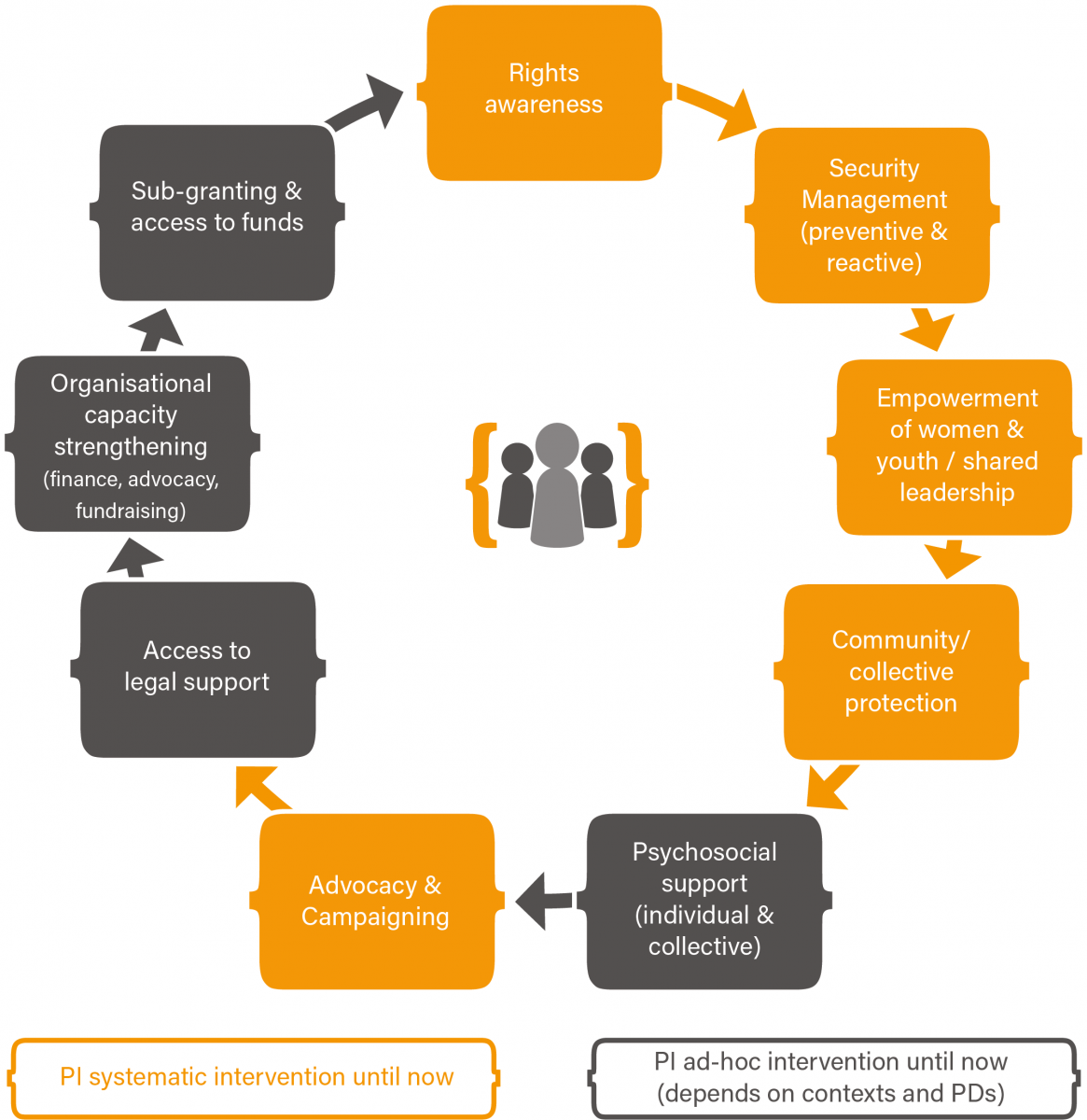 Protection International's revised protection approach implies a broader scope of intervention through its activities and placing greater emphasis on strengthening organisational and collective capacity of W/HRDs. Protection International will strive to increase research and network activities and reinforce protection strategies,  by the incorporation of a more robust psychosocial and gender approach. Lastly, the revised protection approach aims to foster cooperation with specialized organisations and to build alliances with an array of actors and networks that strengthen W/HRD agency and resilience.
---
In the coming five years, Protection International will also decentralise its governance structure, growing its field presences into independent Regional Protection Hubs throughout Latin America, Africa, South-East Asia and Europe. Such de-centralisation will harness Protection International's exposure to and knowledge of the unique contexts for W/HRDs, while reinvigorating its grass-roots ethos. More importantly it will improve Protection International's capacity to respond to the needs of defenders.