19/10/2018 – The photo project Side by Side – WHRDs 2018 featuring 20 women human rights defenders in Thailand by Luke Duggleby – British Bangkok-based global award-winning photographer- and Protection International, cross the ocean for the first time as part of the Southeast X Southeast exhibition. It is open to the public until 27th October at the Southeast Museum of Photography, Florida, USA.
This international exhibition focuses on the contemporary works of photographers living and working in Thailand, with special consideration given to photographers in association with Chiang Mai University, home to Thailand's leading university photography department. The exhibition includes a diverse range of photographers who work in styles ranging from street photography, to commercial, to alternative processes. Southeast X Southeast is curated and organized by Patricia Lois Nuss Bambace, photography instructor at the Southeast Center for Photographic Studies.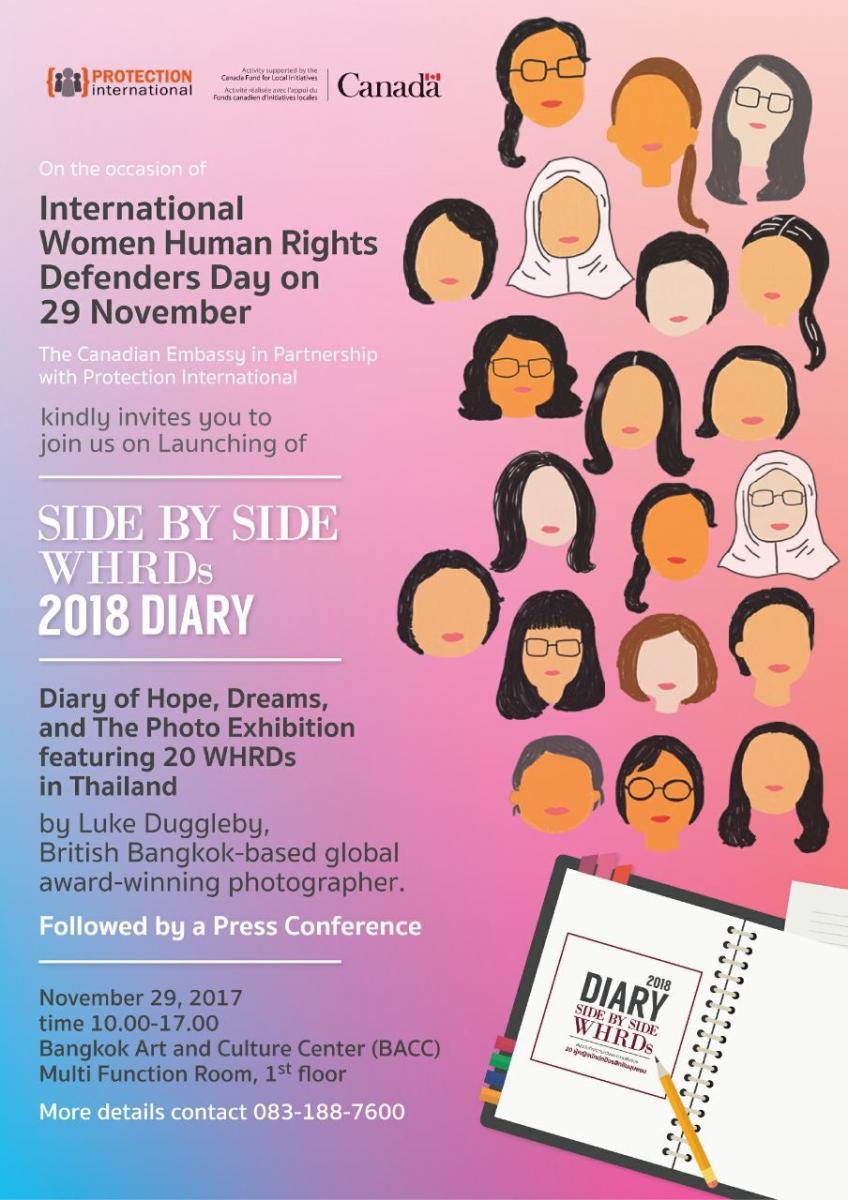 Last 29th November 2017, on the occasion of the International Women Human Rights Defenders Day, the Canadian Embassy in Bangkok, in partnership with Protection International, hosted the launching of "Her Life, Her Diary – Side By Side WHRDs 2018 -Diary of Hope and Dreams" featuring the pictures taken by Luke Duggleby.  
International Women Human Rights Defenders Day is a symbolic day, celebrated in Thailand not without anxiety. Human rights defenders (HRDs), and women HRDs in particular, face unique challenges when participating in the public space and stereotypical and discriminatory attitudes, violence and harassment.
According to information from Protection International, in the period 2014-2017, at least 170 community and rural based  Women Human Rights Defenders have been the target of judicial harassment, from both State and non-State actors, due to their outspoken roles in the defense of the environmental, land rights and  equal access to natural resources.
WHRDs in Thailand are subject to systematic violence and discrimination due to their identities and unyielding struggles for rights, equality and justice. It is the informal networks of women human rights defenders themselves that provide protection. These individuals and informal networks have become vital in both raising awareness and drawing attention to the issue, but also for the women themselves in recognition of their work and for building solidarity with local and global movements.