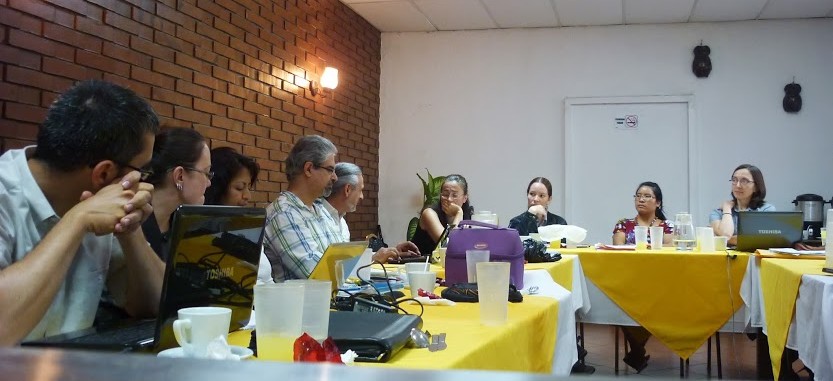 The Protection Desks (PDs) are part of the overall strategy of Protection International (PI) to protect human rights defenders in the world. Working closely with local defenders and their organisations, PDs are designed to provide training and capacity-building on security issues, promote public policies for their protection, and conduct research on related topics.
On 5-9 August 2013, PI held a Second Regional Meeting of its Guatemala and Colombia Protection Desks. The event, which took place in Guatemala City, also gathered members of PI's Policy, Research and Training, and Programme Direction units.
Several members of our local counterpart, UDEFEGUA, participated as well, particularly those working in the psychosocial area and providing support to the Mesoamerican Initiative for Women Human Rights Defenders.
The meeting aimed to move forward in applied research regarding community protection networks, which can be useful for human rights defenders working in rural or isolated areas. This research project will receive further contributions during PI's Global Meeting in Kenya next November, which brings together all the PDs in Africa, Latin America and Asia.
The experiences and knowledge shared during both meetings will be gathered in a Facilitators' Guide for the protection of human rights defenders to be published by the end of this year.
During the five days of work, the team discussed the conceptual framework of the research, including social network analysis, social capital and the role it plays in enhancing the security of networks, as well as defence of the territory of communities.
It also validated the methodological tool for this research while addressing other issues, such as the well being dimension of HRD and PI team and progress in the implementation of outcome mapping — a strong tool used to follow up and monitor the capacity-building process PI carries out in the field. In sum, the meeting allowed PI staff in Latin America to share experiences and strategies, and to strengthen their ties.