---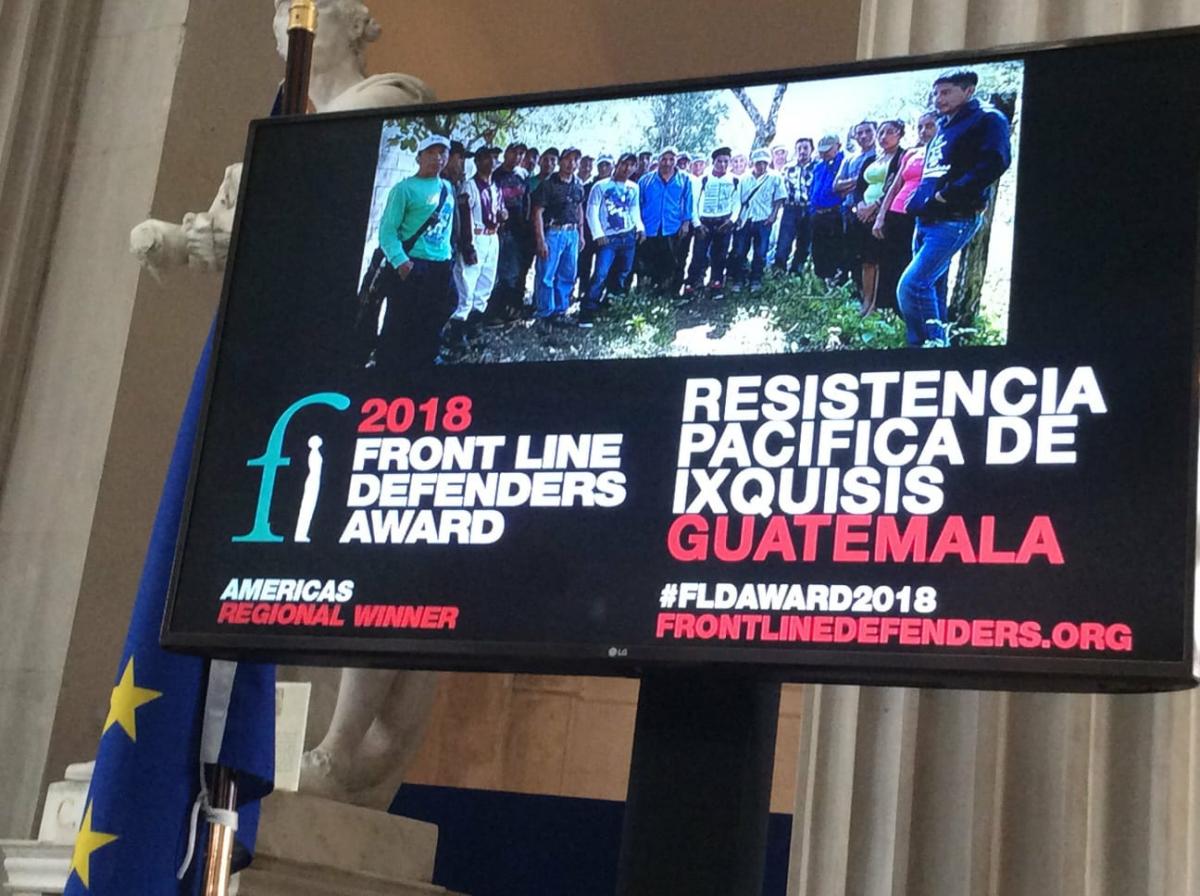 #communitiesareHRDs
Protection International celebrates that the Peaceful Resistance of the Microregion of Ixquisis has received the award, which is a recognition of the collective nature of the defense of human rights.
Defenders rarely work as individuals, but as part of groups, whether they are communities, grassroots organizations, or NGOs. Because together means stronger, protection is largely guaranteed by the collective and relational work carried out by HRDs.
---
The human rights movement in Guatemala – Pacific Resistance of the Microregion of Ixquisis – has been awarded as one of five winners of the Front Line Defenders 2018 Award for Human Rights Defenders at Risk, in recognition of its difficult struggle for its land rights and environmental justice. Front Line Defenders today announced the five winners of its 2018 Award, which also include: Soni Sori (India), Nurcan Baysal (Turkey), the LUCHA movement (Democratic Republic of Congo), and Hassan Bouras (Algeria).
"The human rights defenders we award today work in some of the world's most dangerous areas, sacrificing their own security to peacefully demand justice and the human rights of their communities," said Andrew Anderson, Executive Director of Front Line Defenders when announcing the award winners in Dublin.
Since 2005, the Prize has been awarded annually to human rights defenders who, at great personal risk, have made an exceptional contribution to the protection and defense of the rights of their communities. Historically, this award was given to a defender or movement each year. However, 2018 marks the first time that Front Line Defenders awards defenders from five different countries as regional winners. The 2018 finalists and their families have faced attacks, smear campaigns, judicial harassment, death threats, prison sentences, and intimidation.
The Peaceful Resistance of the Microregion of Ixquisis was created in response to the serious violations of rights committed in the name of economic development in Guatemala. The government gave the green light to destructive hydroelectric and mining megaprojects in the region, despite widespread opposition from the municipality's 59 villages and 7 communities. The HRDs of the Peaceful Resistance risk their lives to defend the territory. In 2016 alone, more than 75 attacks against HRDs were reported in the Pacific Resistance, including killings, shootings, harassment, and smear campaigns.
"While governments and businesses work to delegitimize and defame the peaceful work of human rights defenders, activists around the world teach us that international visibility and recognition is a fundamental protection tool," said Andrew Anderson. "The Award shows that these defenders have the support of the international community, that their sacrifices have not gone unnoticed, and that we stand in solidarity with their relentless courage".
---
Laureates from other regions
NURCAN BAYSAL, TURQUÍA
REGIONAL LAUREATE IN EUROPE AND CENTRAL ASIA
Nurcan is a Kurdish journalist and human rights defender based in Diyarbakir. When the government launched a military offensive in the southeast in 2016, Nurcan spent months visiting Kurdish villages that were being bombed, documenting human rights violations, and helping families who had lost everything in the conflict. Her writings are known for her critical approach to giving voice to women living under the bombings. When the authorities launched the military operation in Afrin, Nurcan turned to social networks to demand peace and condemn this violent attack. She was arrested for denouncing the violence, and although released, she now faces up to 3 years in prison for another case related to her writings. According to the absurd statements of the police, Nurcan had "spread propaganda by armed terrorist organizations… and called for provocative action". In addition to her work as a reporter, Nurcan has also co-founded several NGOs, set up a camp to help Yazidi women fleeing the Islamic state, and has been a key voice in countless reconciliation programs in the region.
SONI SORI, INDIA
REGIONAL LAUREATE IN ASIA
Soni Sori is a defender of indigenous and women's rights in the militarized Bastar region of Chattisghar, India, where state-backed paramilitary forces are waging a violent campaign against local Adivasi tribes in the name of fighting the Maoist armed insurgency. Soni documents and fights against violence by paramilitary and police forces, including destroying villages, burning homes, raping women in the area, and torturing and sexually assaulting members of tribes detained for no reason. Soni has also defended several schools from destruction by Maoist groups. In retaliation for her work, security forces detained and tortured Soni, putting stones in her body and torturing her for hours. Years later, men attacked her with acid and threatened to do the same to her daughter if she did not cease her defense on behalf of tribal women who had been raped by the security forces. She refused to stop her work and continued to travel to the Maoist regions to speak with the survivors of the ongoing conflict.
LUCHA, DRC
REGIONAL LAUREATE IN AFRICA
LUCHA is a non-political youth movement formed in the eastern Democratic Republic of Congo that fights chronic corruption and impunity in the DRC. Although it initially focused on local issues such as access to clean water, electricity, and youth unemployment, in just 6 years the movement has grown into an extensive national network of highly influential social organizers. Peaceful protests and demonstrations led by LUCHA are usually repressed by the authorities. In October 2017, 5 young demonstrators were killed during a demonstration organized by LUCHA, and many of its members and leaders were arrested and detained during peaceful gatherings. The Congolese National Intelligence Agency arrested several members who suffered physical and psychological abuse during their detention.
HASSAN BOURAS
REGIONAL LAUREATE IN MIDDLE EAST AND NORTH AFRICA
Hassan Bouras is a journalist, blogger, leading member of the Algerian League for Human Rights, and a founding member of the Front of Rejection, a coalition against shale gas extraction in Algeria. His reports on corruption and torture in Algeria span more than two decades and as a result, he has been constantly persecuted by the Algerian authorities. He continued to write and defend despite years of judicial harassment, arbitrary arrests, violent raids in his home, and imprisonment.