Maximum Alert
Ongoing Murder of the Indigenous Community in Cauca, Colombia
[Bogotá, Colombia] 25 January 2022 – With profound concern and pain, we have received information about the armed attack against the Nasa Indigenous community in Cauca, Colombia, during which Albeiro Camayo Güeito—former Regional Coordinator of the Indigenous Guard—was murdered. The incidents appear to have been a retaliation after the expulsion of the Jaime Martínez armed Columna Móvil, carried out by the neeh we'sx authority in compliance with their autonomous rights on the afternoon of Monday, 24 January 2022.
With Albeiro, three kiwe thegnas (Indigenous Guards) have already been murdered in less than two weeks, presumably by the same group. The other two individuals are Breiner David Cucuñame and Guillermo Chicame. Given this context, a maximum alert has been declared throughout the Indigenous territories of Cauca.
The armed actors have the obligation to respect International Human Rights Law and International Humanitarian Law, specifically Article 3, common to the four Geneva Conventions, which requires the civilian population to be excluded from war: "Persons taking no active part in the hostilities… shall in all circumstances be treated humanely, without adverse distinction" (Article 3 common to the four Geneva Conventions).
As international civil society organizations, we join and support the alert declared by the Nasa Indigenous community and request that the diplomatic corps present in Colombia urge the national government to implement efficient and effective measures to protect the Indigenous communities of Cauca, including the comprehensive implementation of the Final Peace Agreement signed with the FARC-EP in November 2016. In addition, we call upon the Human Rights Ombuds Office, in fulfillment of its constitutional mandate, to immediately travel to the territory and issue the appropriate and necessary Early Alerts.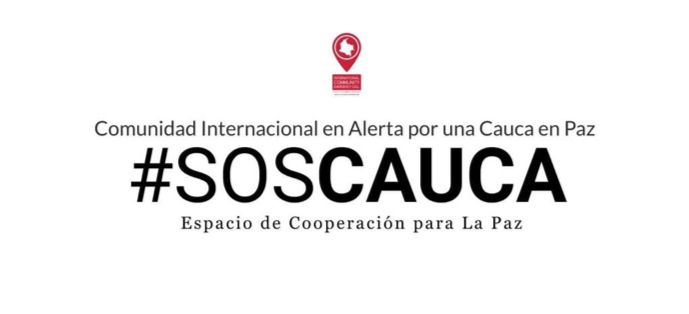 More information:
Cooppaz2016 [at] gmail.com
https://twitter.com/espaciopazencol/ https://www.facebook.com/espaciodecooperacionparalapaz/https://espaciodecooperaci.wixsite.com/boletin