Brussels, 8 December 2014- The 16th EU NGO Forum on Human Rights has taken place on 4 and 5 December in Brussels. This annual event brought together representatives of global civil society and the EU institutions, EU Member States, and international organizations. "Freedoms of expression online and offline" was the theme of this year's Forum.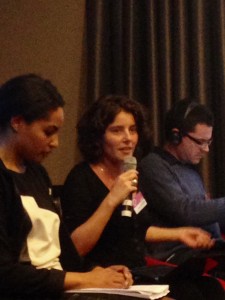 Luis Enrique Eguren, President of Protection International, contributed with a presentation to the "Roundtable: Protection Mechanisms". The objective of mechanisms and public policies for the protection of Human Rights Defenders (HRDs) and journalists is to make sure they can do their work," Mr. Eguren said at the Roundtable. "For this reason, the evaluation of these mechanisms must look at their effectiveness, not simply at the efficiency."
María Martín, the Senior expert and trainer of Protection International's Policy, Training and Research Unit, spoke at the Forum about the theme "Legislative restrictions on Freedom of Expression versus Inconsistent and abusive application of legislation". At the Forum, Ms Martín represented Protection International as well as JASS (Just Associates). Ms Martín highlighted the importance of legislation that prevents actions taken by aggressors against HRDs. Often, she said, legislation looks primarily at reactive measures.
Last May, the Council of the EU adopted the EU Guidelines on Freedom of Expression online and offline. These Guidelines "provide officials and staff with practical guidance on how to contribute to preventing potential violations of freedom of opinion and expression." You can find out more about the Guidelines here, or by downloading them below.
For more information about the EU NGO Forum, click here.