Joint Press Statement:
Protection International and CEJIL commend efforts made to pass a law in consultation with civil society that protects human rights defenders (HRDs), journalists, and justice operators in Honduras.
August 5th, 2014. Tegucigalpa, Honduras
The lives of human rights defenders, as well as journalists and justice operators, are gravely at risk in Honduras. Both the Inter-American Commission on Human Rights, as well as the former United Nations Special Rapporteur on the situation of Human Rights Defenders Magaret Sekaggya, have expressed their concern about the criminalization and distinctive attacks persistently occurring in the country – such as assassinations, death threats, coercion, break-ins and theft at organization headquarters. The Inter-American Court of Human Rights has also recognized the current at-risk environment in their sentences of Kawas Fernández and Luna López vs. Honduras.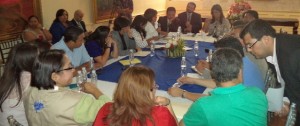 Given the gravity of the situation, the above protection institutions, as well as the Human Rights Council, have recommended through the Universal Periodic Review that the State of Honduras create a mechanism to protect not just human rights defenders, but also journalists.
In this context, on June 4th the National Congress of the Republic of Honduras launched its first debate on the proposed legislation entitled  "Law to protect human rights defenders, journalists and justice operators." While this legislation sought to address the above recommendations, various deficiencies were brought to attention that could inhibit the law from accomplishing its desired objective.
Protection International (PI) and the Centre for Justice and International Law (CEJIL), carried out a joint mission in Tegucigalpa the week of 28 July to the 2nd of August. During the joint mission, PI and CEJIL voiced their concerns about the proposed legislation to representatives of the Honduran Executive Government and Congress while at the same time sitting with local organizations to reflect upon and develop reform proposals that could strengthen the mechanism in question.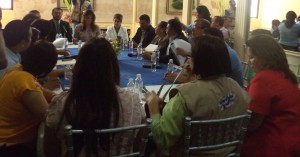 "Any public policy concerning the protection of human rights defenders and journalists should be written in close consultation with civil society and subjected to good technical analysis. Any public policy not made in these conditions risks being inapplicable in that it would be incapable of achieving the desired results," expressed the President of PI, Luis Enrique Eguren.    
Marcia Aguiluz, CEJIL's Program Director for Central America and Mexico, added that "the State of Honduras must not only take international standards into account when considering the protection of human rights defenders but also find consensus with the diverse groups at risk on how to implement the mechanism in ways that respond directly to their needs."
PI and CEJIL commend and thank Honduran authorities for their willingness to listen and improve this draft law. Still, it is important that, as this legislative draft enters into its final stages, input from all sectors of civil society continue to be considered; thus ensuring that this mechanism designed to protect human rights defenders, journalists, and justice operators is the product of an inclusive, far-reaching, transparent and participatory process.