On 10th August 2015, several hundred villagers from Khon Kaen and Kalasin provinces, Isaan region, northeastern Thailand, staged a demonstration outside a petroleum project in the Dongmoon conservation area, calling for the project to be stopped and for community rights to participate in public affairs.
At approximately 9:30 AM, villagers from the Baan Namoon-Doonsard Conservation Group (Khon Kaen), Dongmoon Conservation Group (Kalasin) and Protecting Dongmoon Group, Thong Yai Sub-District (Kalasin) assembled at the Baan Namoon junction on the road to petroleum exploration rig DM5 run by APICO (Korat).
However, 300 officials, including Provincial Police from Kranuan district, Volunteer Defence Forces and military intelligence, assembled at the Baan Namoon junction to block villagers from accessing the motorcade of the Minister of Energy Ltd. Narongchai , who was visiting the petroleum exploration rig. Hence, community-based Human Rights Defenders (HRDs) were stopped  from accessing the Minster to hand him their petition letters against the petroleum project.
The deployment of security forces barred any opportunity for community-based HRDs to petition Minister Narongchai for information, as per rights provided in the UN General Assembly Declaration on Human Rights Defenders1, Article 6 (a), "To know, seek, obtain, receive and hold information about all human rights and fundamental freedoms, including having access to information as to how those rights and freedoms are given effect in domestic legislative, judicial or administrative systems."
Protection International calls:
• for immediate action by stakeholders and duty-bearers to ensure community-based HRDs have effective access, on a nondiscriminatory basis, to meaningful participation in the government of Thailand and in the conduct of public affairs, as provided by the Declaration on HRDs, Article 8.
• the Thai military government to support and uphold the UN Declaration on HRDs. In particular, urge the Thai military government to take all necessary measures to ensure the protection of community-based HRDs from any violence, threats, retaliation, adverse discrimination, pressure or any other arbitrary action as a consequence of their legitimate exercise of the rights referred to in the Declaration on HRDS.
• to urge the National Council for Peace and Order (NCPO) to halt all processes of granting concession permits for natural resources extraction projects until the control of the Thailand's government is under democratic processes and accountable governance.
Forward Petition Letters from Three Isaan community-based HRD groups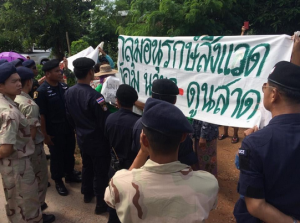 9 August 2015

Subject: The petroleum drill and appraisal of exploratory well DM 5 must be subject to monitoring and transparency and the gas separation project and gas pipeline construction of the Dongmoon petroleum development project must be scrapped.

ATT: Minister of Energy

Dear Sir,  

We the Ban Na Moon-Doonsard Conservation Group are local people living in Tambon Doonsard, Kranuan District, Khon Kaen and work to conserve natural resources and monitor environmental impacts. The group has been opposed to the Environmental Impact Assessment (EIA) process of the Apico (Korat) Co., Ltd since the process has been conducted without genuine public participation. We have submitted petition letters to various agencies asking to investigate the petroleum drill and appraisal of exploratory well DM5, land exploratory field no. L27/43, Kalasin, of Apico (Korat) Co., Ltd. Still, the Governor has persisted to appoint a tripartite committee for the petroleum exploration project of exploratory well DM 5 on 17 February 2015 to prevent the impacts and to monitor the project. Meanwhile, the private company has proceeded to develop the project amidst outcries from local villagers of the Ban Na Moon-Doonsard Conservation Group.  

The Ban Na Moon-Doonsard Conservation Group has been monitoring impacts in local community and has found health impacts including stinking odor that spread around while the drilling and burning is going on. There has been no implementation of proven and credible mitigation methods to minimize impact on health of local villagers and farm productivity. In addition, the proposed monitoring process to ensure the implementation of environmental impact prevention measures has failed to convince local people. For example, on 22 June, the tripartite committee convened a meeting to explain about the project implementation and informed the villagers that the burning and drilling of gas would be put on hold. Still, they have started to burn gas again on 27 June and even have emitted natural raw gas without burning. In addition, it has given rise to a dispute with local villagers since those who live around exploratory well DM5 have found their rubber trees dead and they believe it could be attributed to the exploration and burning of gas. Without any process to ascertain the fact, we are suspicious of the performance of the tripartite committee appointed by the Governor of Khon Kaen. Apart from the petroleum exploration which has caused problems to local people, we have learned that the private company is proceeding with its plan to develop Dongmoon oilfield and other related projects including the construction of gas separation plant and gas pipeline. It has caused even more concern among the villagers.  

The group would like to ask the Ministry of Energy to conduct an inquiry over the project and to determine impacts of the petroleum drill and appraisal of exploratory well DM5 as well as to scrap the construction of the gas separation project and gas pipeline in Dongmoon. We request for a written response to this letter within seven days since the day you receive this letter for the sake of community's quality of life and the environment.  

Yours sincerely

Representative of the Ban Na Moon-Doonsard Conservation Group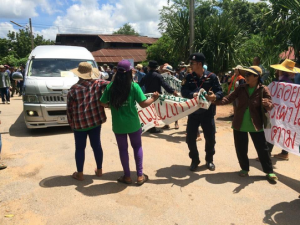 9 August 2015

Subject: Opposition to the petroleum exploration project at exploratory well PK-D, concession field L27/43

ATT: Minister of Energy

Dear Sir,  

The Dongmoon Conservation Group is formed by local villagers in Tambon Natan, Thakhantho District, Kalasin. We rise up to protect our community and the environment from potential impacts of the petroleum exploration project at exploratory well PK-D, concession field L27/43.

The Dongmoon Conservation Group started to mobilise opposition to the petroleum exploration project in October 2013. We have submitted petition letters to various agencies since we have found many flaws in the approval of the project including during the review of the project's Environmental Impact Assessment (EIA) report. Even though the EIA was conducted in the area of Moo 8, Ban Nonamnuay, Tambon Natan, Thakhantho District, Kalasin, but the actual exploratory well was drilled in the area of Moo 13, Ban Noimoon, Tambon Natan, Thakhantho District, Kalasin. The project developer claimed that the two areas are just the same. But in fact, they are quite different from each other. In addition, the process to apply for utilization of the Land for Agricultural Reform in Tambon Natan has simply been carried out without public participation.  

Therefore, the Dongmoon Conservation Group urges that you cancel the petroleum exploration project at exploratory well PK-D, concession field L27/43 since the oil well is located too close to the community and just next to Phu No Mount and Phu Phra National Park part of the lush and pristine Dongmoon forest and home to watershed that has become a major source of food and livelihood for the community.  

Thank you very much and we look forward to your response.

Yours sincerely,

Representative of the Dongmoon Conservation Group

 

 

9 August 2015

Subject: Opposition to the land petroleum exploration project at exploratory rigs no. DME-A, DME-B, DME-C, DME-D, DME-E, DME-F, DME-G, KK-A and KK-B, exploratory field no. L27/43 Kalasin

ATT: Minister of Energy

Dear Sir,  

We the Tambon Nong Yai Conservation Group are composed of local people in Tambon Nong Yai and Tambon Khokkhruea, Nong Kung Sri District and Tambon Pimoon, Huaymek District, Kalasin are being affected by the land petroleum exploration project at exploratory rigs no. DME-A, DME-B, DME-C, DME-D, DME-E, DME-F, DME-G, KK-A and KK-B, exploratory field no. L27/43 Kalasin of the Apico (Korat) Co., Ltd. But we have found that the majority of local people have not been comprehensively informed of impacts from the petroleum drilling and the process to acquire information has failed to make local people aware that it was part of the EIA process. Instead, an emphasis was placed by the project developer to give bags and nail cutters to the villagers who were asked to sign a paper in return. With growing concern over the potential impact, the villagers have made the trip to other areas where petroleum drilling was taking place and they have learned about the impacts from petroleum drilling on health and farm productivity. In addition, we have found that the land petroleum exploration project at exploratory rigs no. DME-A, DME-B, DME-C, DME-D, DME-E, DME-F, DME-G, KK-A and KK-B is located just 500 meters from the community and 200 meters from water supplies. The exploratory area also overlaps with major agricultural land of the villagers. If the state continues to let the private company to proceed with the project, destruction of local people's livelihood shall be inevitable.  

Therefore, the Tambon Nong Yai Conservation Group would like to tender this name list of people in Tambon Nong Yai and Tambon Khokkhruea, Nong Kung Sri District and Tambon Pimoon, Huaymek District, Kalasin, altogether 823 persons who are opposed to the land petroleum exploration project at exploratory rigs no. DME-A, DME-B, DME-C, DME-D, DME-E, DME-F, DME-G, KK-A and KK-B, exploratory field no. L27/43 Kalasin of the Apico (Korat) Co., Ltd. We also urge that the EIA report should be revoked since the process to obtain information has been conducted without genuine public participation.

 Yours sincerely

 Representative of the Tambon Nong Yai Conservation Group