Eva had been sentenced to 4 years in prison because of her work peacefully defending farmers' rights against a national palm oil company in her province, Central Sulawesi.
She was arrested and criminal charges were brought against her in 2011. In May 2014 she was sentenced to 4 years and returned to prison. This ruling sparked local, regional, and international campaigns to call for her release.
Protection International discusses Eva's time in detention, her opinion on the criminalization of defenders, and her commitment to keep defending the community's land and rights.
Protection International: How did you become a woman human rights defender?
Eva Bande: When I was still a student, I was involved with an organization called the Central Sulawesi Student Front. I met several women defenders at that time when there weren't many women who chose to defend human rights.
Together we formed an organization called The Central Sulawesi Struggle for Women's Welfare Group. We accompanied women who were victims of sexual violence. Due to the difficult security situation, we were the only women's organization.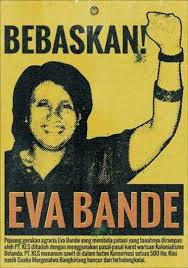 PI: What were the events that led up to your arrest?
EB: Well, through the network of the Welfare Group, I started to receive complaints related to land grabbing in my hometown done by a palm oil company. Together with other activists, I formed the People's Front for Central Sulawesi Palm Oil Advocacy. I was given the mandate to become the Front's coordinator to defend the farmers against the palm oil company.
The palm oil company had obtained two business concessions in order to exploit the right to plant and to get the right to use the land of the farmers. The people who lived on this land had started to carry out small acts of resistance against the company. Aiding the oil company, the military then started doing exercises on the conflicted land and destroying the roads used by farmers during harvesting time.  That sparked the farmers' anger.
I became their mediator, conveying their demand for restoring the roads. The oil company promised to do so but didn't follow up on any of their promises. Finally, feeling like nobody listened to them, a number of farmers set fire to some of the equipment of the oil company. I was present and tried to ease the escalating tensions. I was arrested the next day for allegedly inciting people to act violently, which was not the case.
PI: Can you describe your time in detention?
EB: I am a mother of 3 young children. I had to explain to my children where their mother was and why I was in prison. Even though I have chosen to dedicate part of my life to defending people and their rights, this took a lot of mental strength. I told them: "Mummy is educating people here. I am in school."
_________________________________________________________________________________________________
"I had to explain to my children where their mother was and why was I in prison."
_________________________________________________________________________________________________
The farmers in prison also said to their children they were going to school. I think that at the time it was probably the best way for them to deal with their inner problems. I praise and thank God for my release. I also thank my family and the father of my children for their support. My father said to me: "We will not be ashamed that you are in prison. You are not a criminal, you are defending the rights of a lot of people." My family's support gave me the strength to sit through my sentence.
PI: What is your opinion and experience with criminalization in land rights issues in Indonesia?
EB: I believe criminalization is an attempt to discipline activists both physically and mentally. Physically, by putting them in a confined space where they cannot meet with people, with the groups they defend or with anyone else. Imprisonment is an effective form of criminalisation. It happens to take away the willpower of the HRDs as well as a way to "punch" the group that is being defended.
The aggressors, often corporations acting through the state, hope that in doing so, a defender is mentally so discouraged that he will no longer think about defending rights in a liberal society.
PI: What is the impact of criminalization?
EB: It depends on the person that is criminalized. In my case, I was aware of the risks involved from the very start. If you're a defender who works in this type of environment, this is important. Being aware means knowing the consequences your work can have, including imprisonment and even death. The importance of being aware of the risks also needs to be shared with the communities that you're trying to defend.
_________________________________________________________________________________________________
"It is important to know the consequences your work can have, including imprisonment and even death."
_________________________________________________________________________________________________
The impact, once you are aware of the risks, will not be too big on yourself. At least, this is what was true for me. Being in prison didn't break my spirit. I always received visitors during visiting hours. This time with my friends and family strengthened me. I always let them know that we will continue to fight together and that I will not back down in my fight as a WHRD, not even an inch. Now that I am out of prison I have continued my activities to defend farmers.
PI: What are your plans and hopes for the future?
EB: My release was based on a political decision, I was given clemency by President Jokowi. When I met the President, he told me that he would grant my friends who are still in prison the same rights. At the moment, I'm trying to arrange the release of two befriended farmers.   I do see my release and clemency as a sign that the government is serious about resolving land conflicts.
The President made several statements that he would resolve land conflicts and commit to land reform. I want to make sure that this will really be implemented. This is why we're urging the government to establish a Presidential Task Force that will look at land conflict resolution and land reform. I hope Indonesia will be able to implement the law in the fairest way possible, upholding human rights and not just using the law as an empty slogan for human rights.
In the past year, we have seen a significant rise in criminalization of HRDs, including imprisonment and shootings. This is really worrying. I mean, I hope people realize that when the situation allows for HRDs to be criminalized, this has a huge impact on all people and their rights. So we really need to step up our efforts to protect all HRDs.
_________________________________________________________________________________________________
"When the situation allows for HRDs to be criminalized, this has a huge impact on all people and their rights."
_________________________________________________________________________________________________